I promote . . . my HERITAGE to savor the many unique aspects of my Celtic roots. Despite the mix of a few other nationalities in my ancestral tree, I enjoy a special affinity for all things Scottish and Irish, a nourishing fire stirred in 1982 and still burning bright.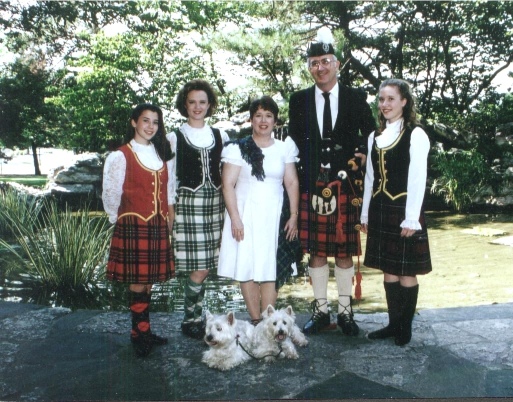 IN THE BEGINNING
In January of 1982 a fellow Girl Scout leader invited our family to the annual celebration of the poet Robert Burns sponsored by the Scottish Society of Nebraska. The bagpipes, individual Highland and group Country dancing enthralled our entire family. Lyle shared that his great-great grandfather, John Henry Walker, had immigrated from Edinburgh in the late-1800's. The "Old Scot" rarely spoke of his homeland because "that was in the past," but he did keep a swatch of his family-affiliated Clan MacGregor in the family Bible. Since hearing a recording of the pipes in childhood, Lyle had harbored a desire to play the instrument. I encouraged him and he contacted the local pipeband, the Omaha Pipes & Drums, bought a practice chanter, and began weekly lessons and daily practice. That Christmas his mother gave him an expensive set of bagpipes. He qualified for band membership the following March and set out on avid participation in band activities and individual performances, workshop instruction and award-winning competitions.
THE LURE OF ALL THINGS CELTIC
When Lyle discovered how time-consuming his avocation was we discussed how to make it a family affair. I found the experienced teen dancers of the Scottish Highland Dance Company of Omaha (SHDCO) taught wee ones. So that summer of 1982, I enrolled two-year-old Deb and four-year-old Barb in the pre-school classes. Ten-year-old Dori had been taking regular dance lessons since age 3 so she enthusiastically took to this form. Soon she was performing with the pipeband where we met a woman who changed our lives. Renowned fiddler and multi-certified Highland Dance teacher Teri Crumblis (Robertson) began giving our girls private lessons. Subsequently, all three won or placed in every single competition they entered. Teri agreed to become the instructor of SHDCO when I became Director in 1985. I recruited other dance moms for an unheard of Adult Beginner class. (You have to understand how rigorously athletic this dance form is). The adult dancers, too, began winning at competitions across the region, as well as enjoying performances and partying with the pipeband for more than a decade. Personally, I advanced from Beginner to Novice in competition and performed until a devastating knee injury while dancing the Swords at a screenwriting party in 2004 ended my "dance career."
My Writing
Now, the more we were exposed to Scottish and Irish culture and history, the more my imagination quivered to learn and depict both history and customs in my storytelling. I do not have the "ear" for some slurring of the Scottish "burr" (as my husband does) but can do a fair job of recreating the cadence of a Scottish speaker. That makes writing dialogue fun. However, I have become a serious critic of misused customs and history in the Scottish romances written by others. I believe it inherent to the integrity and dignity of a way of life that a writer research and portray these elements as authentically as possible. It is a matter of respect. I have one screenplay, "Paying the Piper," dedicated to my husband because it is based on events at one of his piping gigs. Of course, each of my Scottish children's stories is dedicated to an individual grandchild and all those bright eyes and enthralled expressions I have seen over the years of youngsters watching the spectacle of a highland games.
CLAN MACKENZIE SOCIETY OF THE AMERICAS
Website: http://www.clanmackenzie.com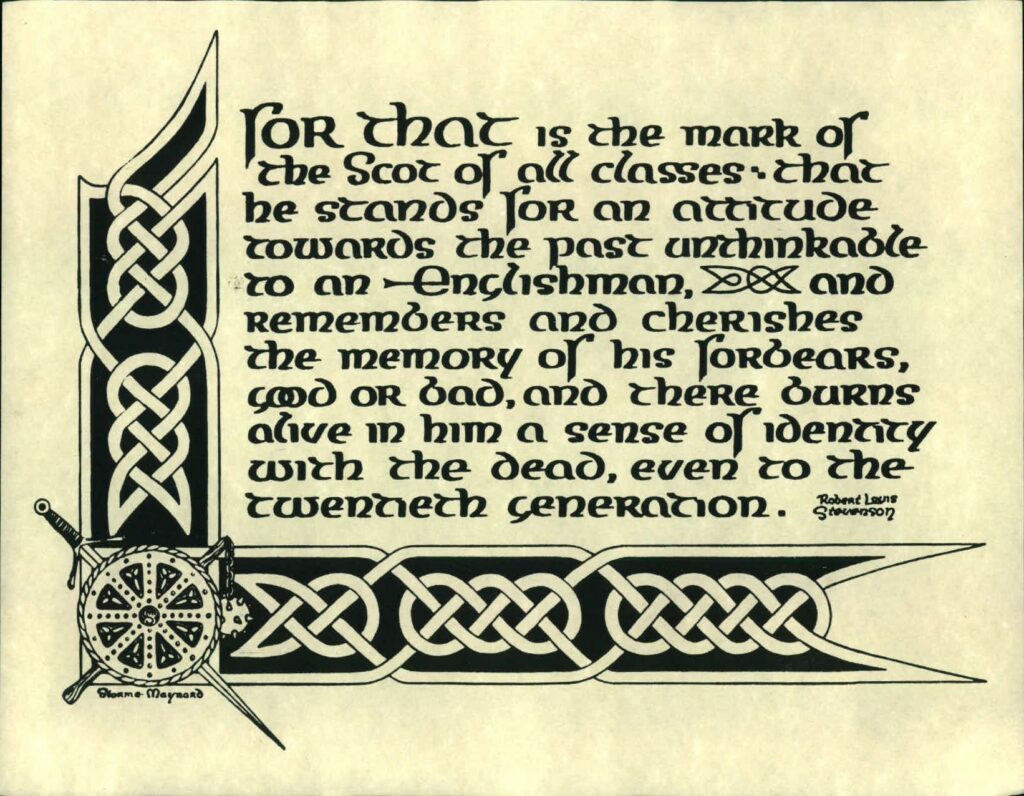 The Clan Mackenzie Society in the United States was incorporated in February 1988. Its organization was based on an idea and dream of Gibson R. Mckenzie. He first presented his idea to a group of MacKenzies at Grandfather Mountain in 1974. The purpose of the society is "to foster a greater interest among MacKenzie descendants in the Clan MacKenzie and to educate and instill an awareness of Scottish traditions in minor children as well as adults." The Mackenzies have a proud heritage dating back many centuries and we hope to preserve and continue the many traditions of our clan and our Scottish heritage.
Sally's Connection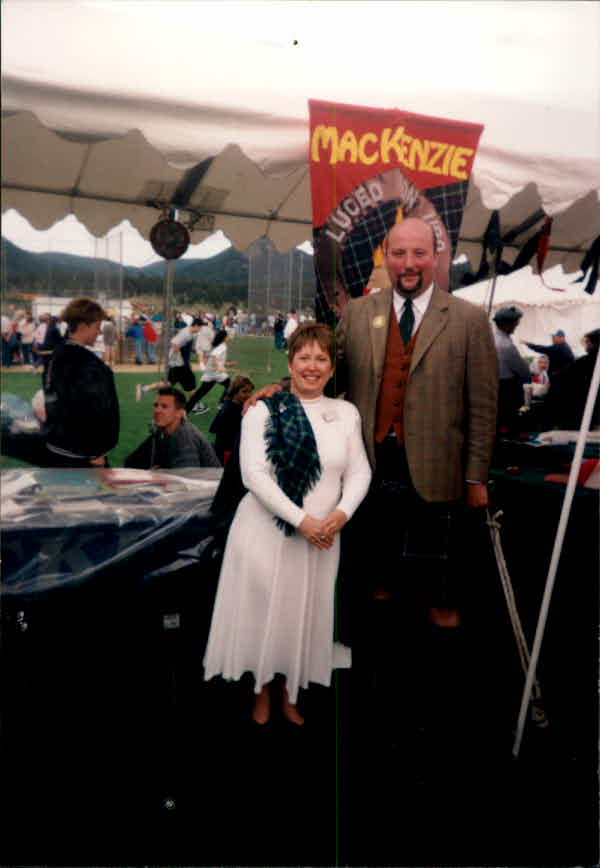 When Sally left dance competition, she chose instead to participate by putting up a booth for Clan MacKenzie on the Clan Row of the various games where Lyle and the girls competed. The booth provided a "home base" for everyone and gave Sally the opportunity to share her enthusiasm for all things Scottish and Mackenzie. She recruited members to the Society and encouraged them to contribute their family information to the MacKenzie Archives at the Odom Geneological Library in Moultrie GA (http://www.n-georgia.com/ellen-payne-genology-library.html). Eventually she was appointed an official Mackenzie Commissioner for the states of Nebraska and Iowa then was elected Heartland Regional Vice-President. As her writing responsibilities grew (especially with the the presidency of the Nebraska Writers Guild), she stepped back to being "just" a Commissioner. Her collection of display material is minimal compared to the vast array put together by the people who have taken over booths at the Kansas City Games and in Estes Park CO. What a joy it is when welcomed by well known fellow clansmen and those who do not remain strangers for long. One of her most prized mementos is a 1997 photo entitled "The Tall and the Short of the MacKenzie Clan" of 4-11 Sally standing with 6-7 Ross MacKenzie who was then curator on-site at the battlefield in Culloden.
OMAHA PIPES & DRUMS
Website; http://www.omahapipesanddrums.com
The Omaha Pipes and Drums has been thrilling audiences with their repertoire of Traditional Scottish and Irish music since 1970. The Band is a registered 501(c)(3) teaching organization providing FREE bagpipe and drumming lessons. The Band offers scholarships to members and students to encourage participation in local, regional and national piping and drumming schools and workshops. The Band wears the Cameron of Erracht tartan in honor of its founder, Tony Smith, who was a Cameron Cadet. Members perform for numerous service, military, civic, police, fire, and private functions. Registered with the Midwest Pipe Band Association, the band competes in Grades 4 at a number of regional competitions. In 2004, the Omaha Pipes and Drums competed in three games in Scotland; North Berwick, Bridge of Alan, and the World Pipe Band Championships in Glasgow. The band finished in 6th place in Grade 4 at Bridge of Allan, 8th Place in Grade 4 at North Berwick, and 7th place in the qualifying rounds of Grade 4B at the World Pipe Band Championships. The band offset the cost of travel and lodging for the trip for each member. (Sally accompanied Lyle and even struck up a friendship maintained by correspondence with a Scottish woman in a pub in Stirling ) The 2017 trip to the World's included not only Lyle, but also 18-year-old grandson (and piping savant) Jacob Schildhauer piping beside his grandfather and our eldest daughter Dori flourishing on the tenor drums. The drum line came in 6th but the band as a whole only came in 16th. In Fall of 2018 the fourteen year old grandson Ryan Schildhauer began piping lessons with his grandfather and is learning even faster than his eldest brother.