Born to poor farm folk in the little rural community of Exira, Iowa, Sally attended many schools in western Iowa and the Omaha, Nebraska, area. She eventually graduated from Papillion (NE) High School then nursing school at the University of Albuquerque and, eventually received a BFA in Creative Writing back at the University of Nebraska at Omaha. That degree was accomplished while working full-time as a Critical Care/ER nurse and raising a very active family of three daughters with her engineer husband. Adeptly juggling family, nursing, civic and Episcopal church responsibilities.

Sally founded in 1985 and has conducted the weekly meetings of the eclectic Nebraska Writers Workshop www.nebraskawritersworkshop.info to feed her own hunger for in-depth knowledge and skills. The Workshop has grown from a few tentative members to over 50 confidently publishing and produced writers. Her own goal-oriented writing ethic has resulted in a vitae packed with novels, short stories, poetry, magazine articles, stage plays, screenplays and a variety of writing seminars. From 2000 through 2018 she worked part-time as Editorial Director at a small publishing company, The Fiction Works, and as Script Supervisor for its affiliated Misty Mountain Productions www.mistymountainproductions.com.

After retiring from her nursing career of over 30 years, she was elected president of a state-wide writers organization, serving 2007-2011. Besides maintaining her heavy writing schedule, since 1987 she has taught on-site and on-line seminars for a variety of venues and in fall of 2017 took the position of Professor of Screenwriting for Omaha's Metropolitan Community College. In Fall of 2018 she signed with the publishing company Author Academy Elite.


Scottish-Irish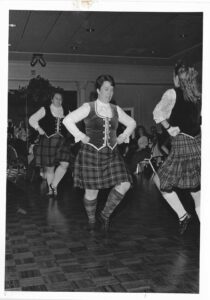 When husband Lyle became an obsessive student of the bagpipes and his Scottish heritage, Sally made it a family avocation by supporting her girls in Highland and Irish dance lessons. Traveling to 4-6 games a year all over the Midwest, her own interest in all things Celtic naturally evolved.  The more she learned and observed, the more she had to know, right up to competing in Highland Dance herself at the Adult level. Eventually, she discovered her own Scottish roots on her paternal grandmother's side (thus her membership in Clan MacKenzie www.clanmackenzie.com) and the Scots-Irish heritage on her maternal grandfather's side.


Westerns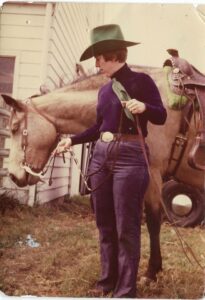 Sally had developed a profound interest in all things western early in life, probably due to her father's devotion to TV and movie westerns. Not surprisingly her first stage play in the Third Grade was a western. She read every Zane Grey novel (as well as all of Louisa May Alcott's) and penned her own western novella at age 12. When the TV series BONANZA was at its zenith, 16-year-old Sally corresponded with one of their writers, N. B. Stone Jr. That summer Stone coached her through her first teleplay while he was on location for his script RIDE THE HIGH COUNTRY directed by the iconic Sam Peckinpah.

An active horsewoman for 25 years, Sally's first professional writing membership was to Western Writers of America www.westernwriters.org . Despite its cyclical appeal, westerns remain her favorite genre, whether in novel or film format. In 2015 she started adapting her first published western Desert Time into a mini-series proposal for cable. The Second Edition of the novel was nominated for the 2020 National Cowboy Hall of Fame's Western Heritage Award in Literature.
Romance
In the early 1990's Sally discovered Romance Writers of America www.rwa.org . She quite naturally wove that genre's relationship principles into her western and Celtic storytelling. Her medical romance The Healing Touch was runner up to STAR WARS for "The Best Audiobook of 1994." Her membership in RWA and participation in local chapters lasted 18 years until conflict arose over her editor vs. writer status. However, she remains a voracious romance reader and genre advocate. One of the seven founders of RWA, Parris Afton Bonds, lauded Sally's screenwriting material included in Learn Genre Film Secrets as "a tool every romance writer needs."With the success of her general fiction course "Novel Perspectives," romance enthusiasts requested her "Romance Perspectives" launched in early 2014.
Juvenile
Predictably, one of Sally's early juvenile efforts was The Bishops Buy a Horse. She went on to write an eight-part Scottish series about young children learning to participate in their Scottish heritage, a Scottish fairy tale The Legend of the Golden Rose and a 10-part Young Adult series on nursing, THE CAREGIVER CHRONICLES. She also has two children's short story collections, Stories of Christmas Past and The Ethnic Festival Mystery. She continues to produce short-shorts for her collection Psalms for Today's Child. Sally's creation of the Hi-Lo Bell Ringer literacy series for The Fiction Works and contributions to two of those anthologies earned her membership in the Society of Children's Book Writers and Illustrators www.scbwi.org . Author Academy Elite published her Hi-Lo collection of fiction, Meeting People, in 2019. Sally looks forward to that company turning her children's literature into a reality.
Screenplays
The late Paramount writer N.B. Stone Jr did not recognize the "monster" he loosed when he coached Sally's first teleplay back in 1963. Since that experience of learning how to "see" story on screen, Sally has focused on screenwriting as her favorite writing discipline. Joe Wallenstein (producer of KNOTT'S LANDING and SISTERS now teaching at USC) began mentoring her in 1989 after reading one of her westerns. Lew Hunter www.lewhunter.com, Chair Emeritus and a Professor at UCLA's Film Department. as well as former Program Director for NBC, took over that mentoring role in 1997. Sally had a total of 8 scripts written at that time. At the start of 2017 she had 32 with 18 polished and being marketed. One of her westerns was among the 233 Quarterfinalists of the 4,442 entries in the 1998 Nicholl competition. Periodically, she acts as Script Supervisor for Misty Mountain Productions. She is also a member of the Nebraska Film Association lobbying for legislation to advance the film industry in the state. Because of both her professional efforts and her teaching, in the fall of 2017 two academic peers recommended her for the position of Adjunct Professor of Screenwriting at Omaha's Metropolitan Community College. Her first two textbooks published by Author Academy Elite, Learn Screenwriting and Learn Genre Film Secrets, are, of course, collections of her screenwriting courses.
Poetry and Stage Plays
Her undergraduate experience opened up two untapped areas of creativity for Sally: poetry and stage plays. Her poetry professor, Art Homer at UNO, taught her how a poet's view and interpretation of the world are seductively unique. Sally uses that refined focus to practice control of both language and image. Her first published material was poetry. She had several read around the world thanks to a publication of the international C.S. Lewis Society who compared her voice to Gerard Manley Hopkins. Meeting with the chair of the Drama Department Doug Patterson her final semester resulted in the one-act "Brian's Homecoming." The play was performed through a grant from the National Endowment for the Arts and was later published along with a 3-Act play, "A Matter of Conscience." She has five others first-drafted awaiting revision and one work-in-progress she envisions as the book for a musical.
Nonfiction
Sally was introduced to journalism as editor of her high school paper and part-time employee of the local small town newspaper. Of course, writing college papers convinced her of the importance of succinct rhetoric and verifiable resources. (So, yes, folks, there is a purpose to that painful collegiate experience). After being asked to write articles for various romance chapter websites, a chapter for Susan Aylworth's literary anthology All We Know of Heaven and posting insights to a screenwriting list-serve, she was invited to join the staff of an international screenwriting magazine, SCREENTALK, that evolved into MOVIESCOPE when it began to publish articles and interviews from all facets of the film industry. Her six-year stint there ended when the magazine was bought out by CREATIVE SCREENWRITING. Posting her views of various things impacting the "writing life" led to the 365 essays compiled into A Writer's Year published in 2011 and its Second Edition released from AAE in 2019. From June 2010 through 2017, she published a monthly column for www.savvyauthors.com, A DRAMATIST'S TALE. In 2012 three of her first screenwriting textbooks were released as e-books. In 2019 those were expanded and became part of the six creative writing textbooks of the LEARN Series born of her successful WRITE NOW workshops.
Teaching
Preparing and presenting weekly discussion topics for her weekly writers group gave Sally the confidence to create the WRITE NOW workshops. To date she has taught over 35 different workshops both on-site and on-line. An avid learner, she is always ready to change and grow her own process then pass on what she has learned in a practical manner intended to challenge participants rather than dictate end-all-be-all concepts. She has taught for Omaha's Metropolitan Community College, Kansas City's Johnson County Community College, Lincoln (NE)'s Southeast Community College, several chapters of RWA including KOD and Scriptscene, a Romantic Times national conference, and the Moondance International Film Festival, as well as conducted a mini-workshop of writing and meditation for Omaha-area churches. Sally has also been an Artist-in-Residence and motivational speaker at several Omaha area schools and conducts free weekly mentoring sessions for teens at the Ralston Baright Library on Wednesday evenings. After completing a screenplay his senior year in HS, one of her previous teens graduated with degrees in journalism and film at Northwestern. Another teen completed the first novel of a trilogy in her senior year of high school, the second novel while getting her degree in English, then went to work for the University of Nebraska Press. A 2013 graduate was among the fortunate few selected for screenwriting study at the NYU Film School and a second mentored teen was accepted there in 2017. Sally's passionate voice advocating the pursuit of excellence in writing through education and the "Creative Conscience" led to her 2012 nomination for inclusion in The New Revolutionists, a project recognizing fearless American women http://thenewrevolutionists.org/revolutionists/sally-j-walker/. Because of both her professional efforts and her teaching, in the fall of 2017 two academic peers recommended her for the position of Adjunct Professor of Screenwriting at Omaha's Metropolitan Community College.
SALLY'S CHRISTIANITY
Just because this is last on my list does not mean it has that priority in my everyday life. I rise every morning thanking God for my life and meditate on Him as I go to sleep. I was raised in a basically "unchurched" family. A friend of my parents gave me my own Bible at age twelve because I would sit and read hers when we came in from the farm every Saturday. The following summer when we moved back to my hometown of Exira IA (and I wrote my first western novella), I walked the many blocks to attend vacation bible school at the First Christian church and was baptized by immersion. By the time my parents bought a home in an Omaha suburb, I was 16 and driving. That allowed me to truly attend a church every Sunday and, along with several of my high school friends, I chose the moderate United Methodist Church. In my mid-20's while going to nursing school in Albuquerque I took a semester each of Old Testament and New Testament studies under Episcopal priest Bill Crews and turned to that denomination at the greatest crisis in my life. My spirit and intellect soared together under the Episcopal concepts and ritual.
We celebrated our marriage and raised our girls at Trinity Episcopal Cathedral in Omaha www.trinityepiscopal.org, I became a fan of C. S. Lewis, began my Christian poetry journey, as well as the discipline of the short-short stories for Psalms for Today's Child and started work on the 1870's historical Love, Guns or Grace. The young priest, J. Scott Barker, who advised me on that material, is now the Bishop of the Diocese of Nebraska. Since 2008 Lyle and I have been communicants at the much closer and smaller St. Martha's www.stmarthaspapillion.com whose staff has critiqued several of my screenplays and were the first to host my mini-workshop HOLY EXPRESSION, JOYFUL MEDITATION.